Severe physical injury also damages the aura. Battle wounds and injuries from a past life are surprisingly common.
My client came to me for a persistent neck and shoulder injury/pain. She had experienced this issue for years. It was so bad she wasn't able to lie on her side for more than a few minutes. This limited her movement and it was getting in the way of work, personal relationships and her relationship with her young children.
I explained that often it takes a few sessions for the body to 'let me in' to see the past lives. I believe this is because our bodies try to protect us. In my experience it takes about 3 sessions for it to understand what I'm trying to do. But not for her! Her body was clearly ready to release it.
As soon as I touched her neck and shoulders I was in a muddy medieval battle field. I watched my client (as a unwilling soldier) take the full force of an enormous sword through the back of the neck and across the shoulder. This image from Game of Thrones is as close a picture as I could find to describe the scene without getting too gory. Needless to say the sight and sound of the battle field was horrific, and the battle wounds were devastating.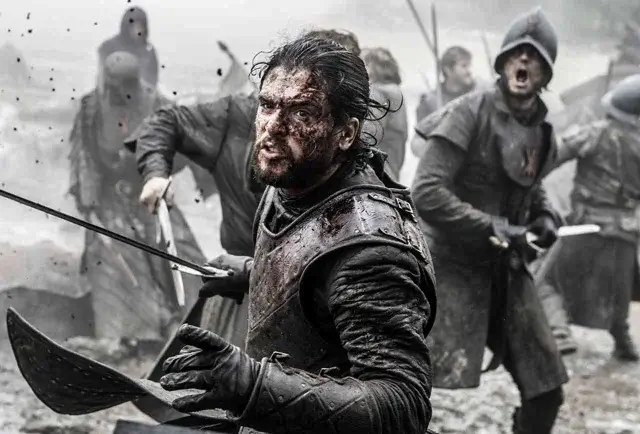 As the soldier lay dying in the mud, I helped him to release his soul from that moment in time. And in doing so release the wounding from my client now. She felt immediate pain relief.
In our post-session chat I told her what I'd seen.
And she said, "Other people who talk about past lives always talk about someone famous – like Cleopatra. But not you. I love it!"
I had a little laugh and said that, "I think it's because those lives don't generally give you issues. It's the lives you've had as someone who has gone through a hard time that leaves the damage – and that's what you bring through into this life." Of course this is just a working theory of mine! For all I know it's simply my role in this lifetime to find and clear "everyday Joe" type lives. I honestly don't know at this stage.
The following week she bounced in, excited by the fact that she'd been able to spoon with her partner & cuddle up with her kids in their bed without any pain. And at work she could do more things as her neck was moving freely once more.
Past lives are funny things…hard to pin down. Illusive most of the time and yet waiting to be found. But they don't need to stop you living now.